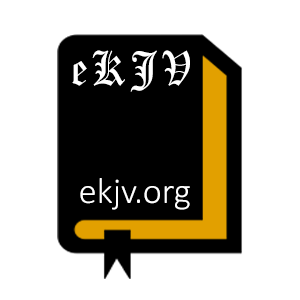 ---
King James Version (AV 1611) Online Searchable and Free Download with NO Ads!
The Electronic, Authorized King James Version
This website (eKJV.org) is a personal project of mine (Douglas E. Nevill, Sr.) that I developed because I was looking for this online myself and could not find it.
FREE DOWNLOAD WITH NO ADS
You may download the eKVJ free. There are NEVER ANY ADS! After you have downloaded, you will be able to read OFFLINE on any device (desktop, laptop, pad or smart phone).
Donations are Appreciated
The eKJV website and free, digital downloadable version that I have developed are both free to use. The downloadable version is not for sale. However, if you appreciate it, you may make a donation of any amount.
Sponsors are Welcomed
If you would like to have your ad placed on this website, we welcome you to become one of our sponsors.
Sponsors make it possible for me to continue to maintain this site and add value to it.
Ads Will Display on this Website ONLY
Your sponsor's ad will be shown at the bottom of all of the pages on this website in addition to a listing on the Sponsor's Page.
There are NEVER any ads on the FREE, downloadable eKVJ.  No exceptions, so don't ask for this, please.
Get Your Questions Answered
(Frequently Asked Questions or FAQs)
I have created a Q & A page that lists the most commonly asked questions and their answers.
Get in Touch